---
Racism as Trauma and Cultural Competency
What This Means for Prevention and Treatment
with Dr. Fran Kaplan
Date: Wednesday, May 30, 2018
6:00 to 8:00 PM
Over the past 30 years, mental health and other social service professionals have been introduced to the evolving theory and practices of trauma-informed care. Treatment tends to focus on facilitating an individual's or family's recovery and resiliency. But what if the very country you live in is traumagenic? This talk explores the 400-year history and impacts of the USA's racial hierarchy, its implications for all Americans, and what social service professionals can do to make a difference.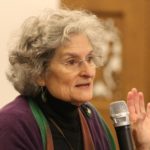 Fran Kaplan, MSW, EdD, has worked for 50 years as the director of nonprofit and social-entrepreneurial organizations, some of which I helped to found—as well as an adult educator, social worker, independent scholar and researcher, writer and editor, and filmmaker. No matter what the "job," she has always been a social activist working towards racial and economic justice, children's well-being, and women's equality.
Watch a video bio of Dr. Fran Kaplan.
Cost: $50.00
Payment is required at the time of registration unless you have a valid reason for offline payment. Confirmation will be sent once payment has been received.
Contact: Sonya Thorn, 512-757-0087
or sonya@texasnurturingcenter.org
Date/Time
Date(s) - 05/30/2018
6:00 pm - 8:00 pm
Location
Holiday Inn Austin Airport
---
Registration
Registration is closed for this event.