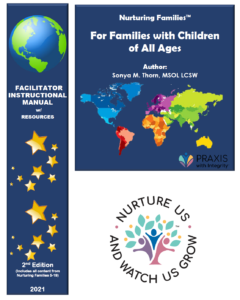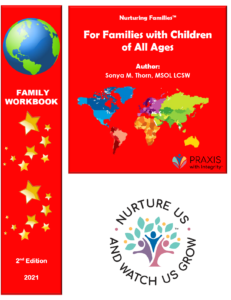 Nurturing Families™
for Families with Children of All Ages
Nurturing Families™ is an evidence based, trauma informed and nationally validated family systems intervention that focuses on:
Bonding & Attachment

Healthy Relationship Maintenance 

Emotional Regulation

Healing & Recovery 

Empathy & Self-Awareness

Sense of Belonging

Self-Identity & Self-Worth

Age Appropriate Expectations

Dignified Discipline Alternatives
The strength of NPP-Nurturing Families™ is based on 29 years of implementing and training alongside Dr. Stephen Bavolek. Families with children of all ages engage in both affective and cognitive leaning. Families reach competencies through lessons that encourage and sustain attitudinal and behavioral change. 
CONTENT
Facilitator Instructional Manual w/ Resources
Family Workbook with Learn and Share Infographics
Included are 16 competencies with many lessons.
REQUIREMENTS
This item is for you if you have already completed a NPP-Nurturing Families™ Facilitator Certification Training in the last 3 years from a recognized NPP-Nurturing Families Trainer/Consultant (E-mail sonya@nurturingfamiliescenter.com if you are not sure).
Maintain fidelity implementation with all families served.
Attend the annual Nurturing Families™ Recertification Conference.
---
All copyright privileges to both programs belong to  Praxis with Integrity Consulting PLLC, DBA Family Nurturing Center of Texas and the principal author Sonya Michelle Thorn, MSOL LCSW. Copyright infringement is not approved unless a temporary MOU has been written between parties.
---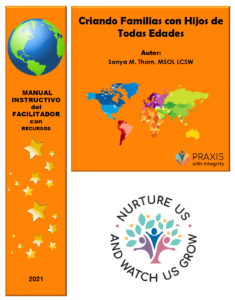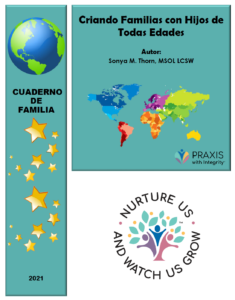 Criando Familias™
con Hijos de Todas Edades
¡¡¡Nuevo lanzamiento completo !!!
Criando Familias™ es una intervención de sistemas familiares basada en evidencia, informada sobre el trauma y validada a nivel nacional que se enfoca en:
Vinculación y apego
Mantenimiento de relaciones saludables
Regulación emocional
Curación y recuperación
Empatía y autoconciencia
Sentido de pertenencia
Autoidentidad y autoestima
Expectativas apropiadas para la edad
Alternativas de disciplina digna
CONTENIDO
Manual Instructivo de Facilitador con Recursos
Cuaderno de Familia con Infograficas para Aprender y Conpartir
Se incluyen 16 competencias con muchas lecciones.
Disponibles hoy. Comuníquese para mas información a sonya@nurturingfamiliescenter.com
REQUISITOS
Se enviará un correo electrónico de notificación a todos los Afiliados de Nurturing Families Center con información sobre Criando Familias con Hijos de Todas Edades ™ . Todas las competencias estan disponibles.
Este artículo es para usted si ya ha completado una capacitación de Certificación de Facilitador de Nurturing Families ™ en los últimos 3 años de un entrenador de Nurturing Families Center reconocido (envíe un correo electrónico a sonya@nurturingfamiliescenter.com si no está seguro).
Mantener la implementación de la fidelidad con todas las familias atendidas
Asista a la Conferencia Anual de Recertificación de Nurturing Families™
---
Todos los privilegios de derechos de autor pertenecen a Praxis con Integrity Consulting PLLC, DBA Family Nurturing Center of Texas y la autora principal Sonya Michelle Thorn, MSOL LCSW. La infracción de derechos de autor no se aprueba a menos que se haya escrito un memorando de entendimiento temporal entre las partes.
---
TEXAS LOCAL MENTAL HEALTH AUTHORITIES
WE DID IT!!!
We are grateful for all you did as a state agency to believe in yourself and for your passion in regard to the mental wellness of Texas children and families. It was through your tireless effort, persistence, and dedication that we were able to complete Nurturing Families 2nd Edition.
We listened to you from the inception of our partnership/contract in 2012 when you made your request and shared your needs for the families you serve. This is what you will find in the 2nd edition:
An implementation manual and a family workbook that covers lessons for families with children of all ages
Clear, concise, and easy to implement
Replaced many old, outdated and confusing parenting manuals
Parent and child relationship work in every competency
All the info you need to teach a topic/lesson, so you do not have to search the internet
Evidence-based and trauma informed
Up-to-date for diverse families of today
More on Mental Health and Substance Abuse
On-going implementation support
A checklist to ensure fidelity
In-house sustainability (Certified Organizational Trainer track)
On-going curriculum updates
Family focused to strengthen family relationships
Can be used with teens 12+ with or without their parents
TX LMHA APPRECIATION!!!

To show our appreciation we are giving you a $750 value for the Family Workbook Annual License for $300.00 per year.  An annual savings of $450 dollars.  The Family Workbook has unlimited copy privileges to all certified facilitators in your agency to share with families they serve.  We are humbled by your graciousness and support while allowing us to serve you trough this NPP initiative.